How to register on the App
Here we provide information on how to register for membership on the App. Please have the credit card that you intend to use for payment to hand.
Customers who will be using the "EX App" distributed in the Japanese App store, please register from the website (available in Japanese only).
The screen shots below are examples for reference.
2. Accessing the membership registration

① Open the App and tap "Sign up".
3. Agreeing to terms and conditions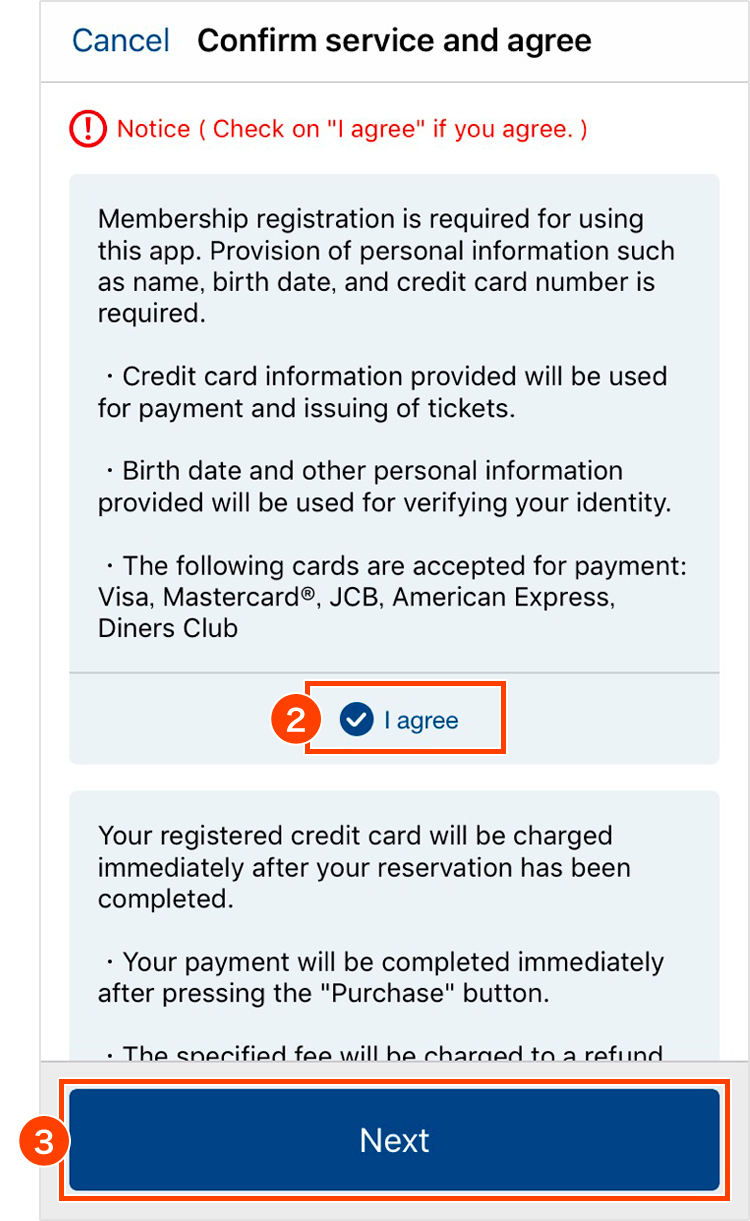 ② Please check the information on individual services and tap "I agree" if you agree.
③ Once you have agreed to everything, tap "Next".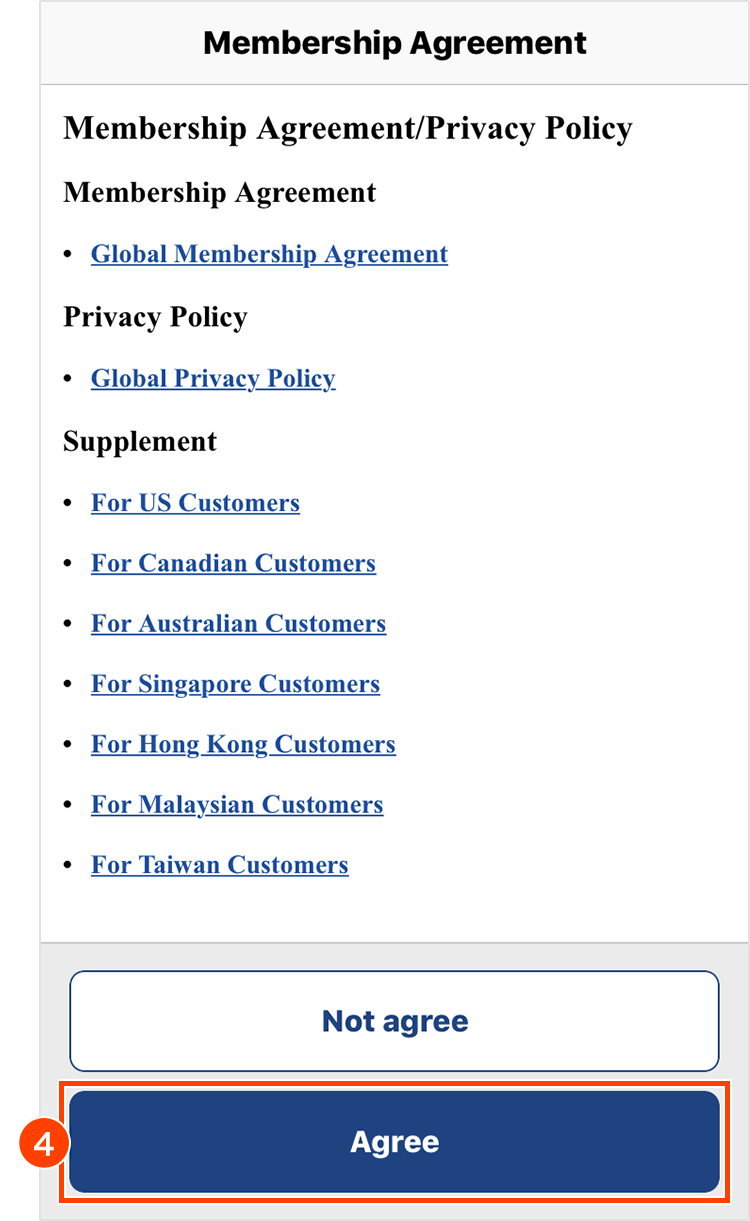 ④ The Membership Agreement, Privacy Policy and Supplement will appear. Please check the details and tap "Agree" if you agree.
4. Registering membership information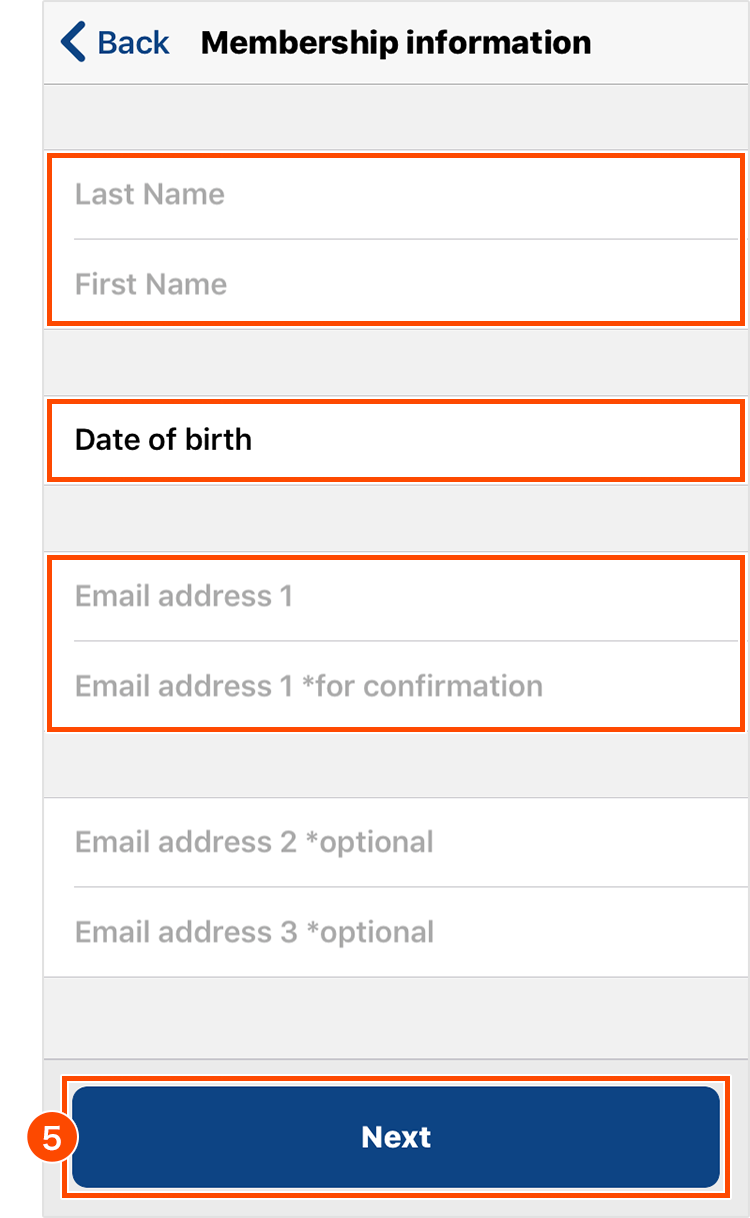 ⑤ Please enter your membership information - "Name", "Date of birth" and "Email address" and then tap "Next".
Anyone under the age of 18 is not able to register.
Do not enter more than two blank spaces in this Name field.
Email addresses 2 and 3 are optional.
Please adjust your settings to allow receipt of emails from the domain "@expy.jp".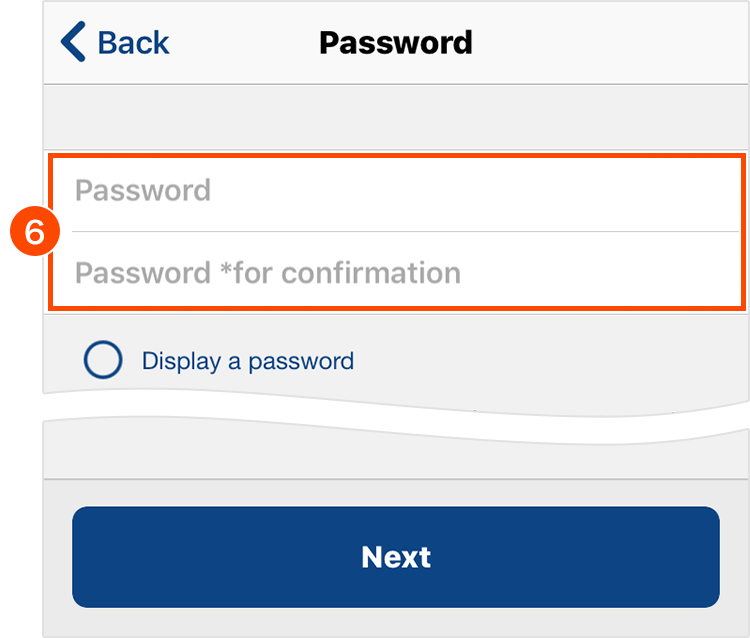 ⑥ Enter a password
Please use a password that is between 4-8 characters long using half-width alphanumeric characters and symbols.
The symbols you can use are listed below:
・, _, !, #, $, %, &, @, +, -
Please make sure you don't forget your password, as you will need it when picking up your tickets.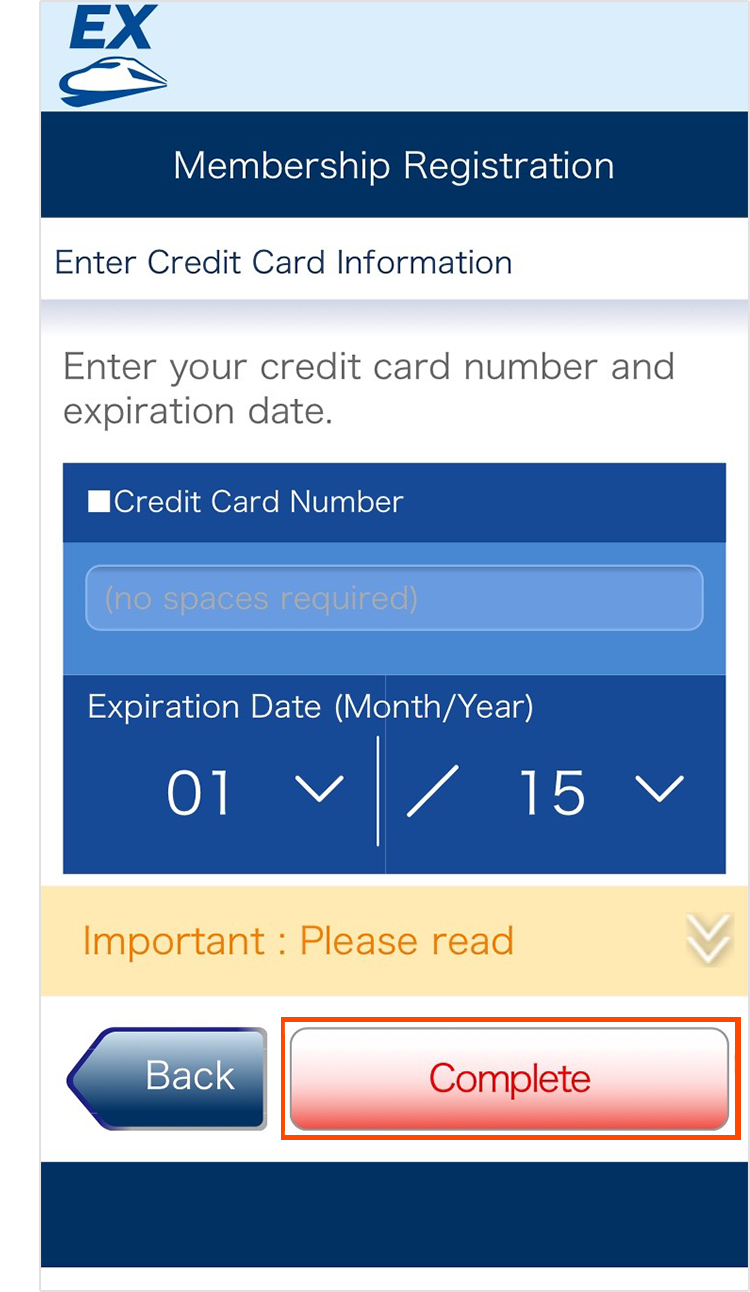 ⑦ Enter your credit card information
Enter your credit card number and expiration date, then tap "Next".
You can use your camera to read the credit card number.
Please hold the card surface in the frame.
Some card (such as flat, unembossed printed numbers etc.) cannot be loaded by a camera. In that case, please enter the number directly in the information field.
The credit cards accepted for registration are listed below.

Credit card payments need to be made by the member himself/herself; therefore card holders must be 18 or over.
We recommend that you register with an ordinary credit card. Small-size credit cards (mini cards) and credit cards that have no physical substance (virtual cards) cannot be used for certain services, such as picking up the Service "tickets", etc.
Due to the settlement mechanisms used for debit cards and prepaid cards, it is possible that a small amount of payment may be temporarily withdrawn when processing a user authentication during credit card registration or change, payments may temporarily be deducted twice when processing a change or a refund, or that there may be an insufficient balance on the card; consequently, in some cases the card issuer may decide that the card cannot be used to register with this service.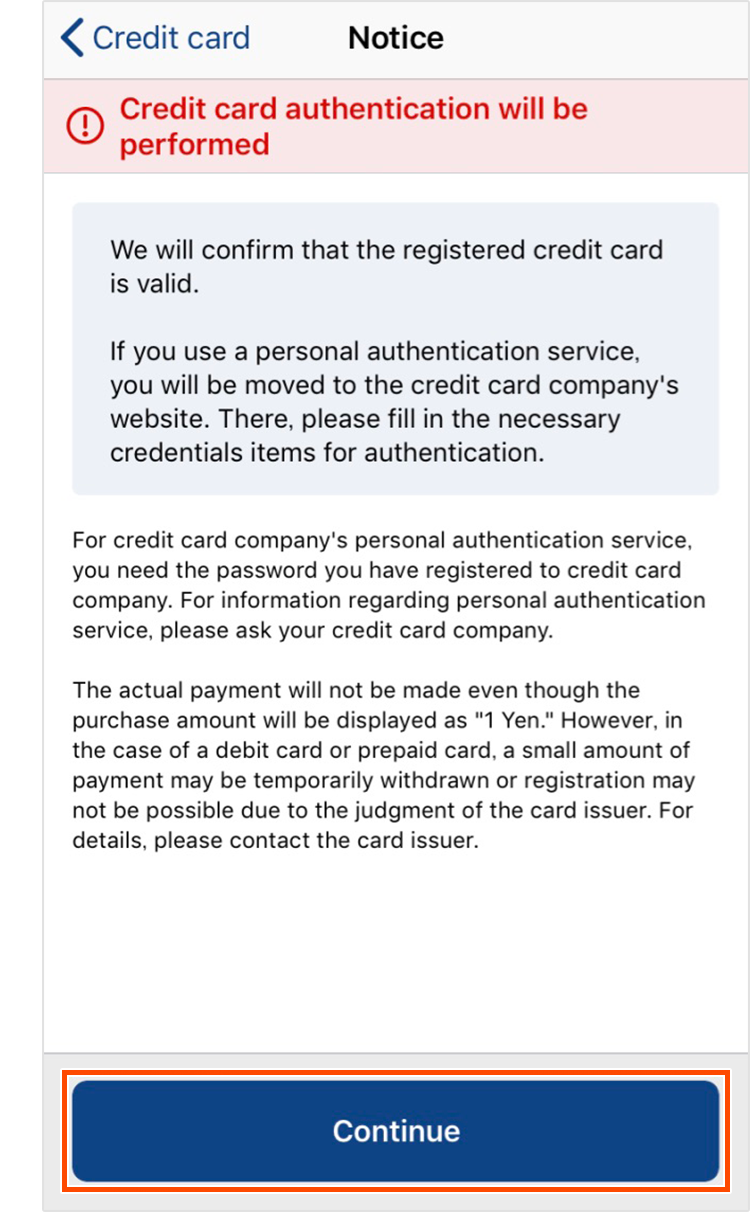 A notice about credit card authentication will appear.
If you use your credit card company's personal authentication service (3-D Secure Authentication) then tap "Continue" to be forwarded to your credit card company's home page.
On the credit card's 3-D Secure Authentication screen, enter the password that you registered with your credit card company and tap "Send".
This screen will not appear if you don't use a personal authentication service (3-D Secure Authentication), or for certain types of credit card. If the screen does not appear, a security code will be used to carry out authentication when you make a new reservation, etc.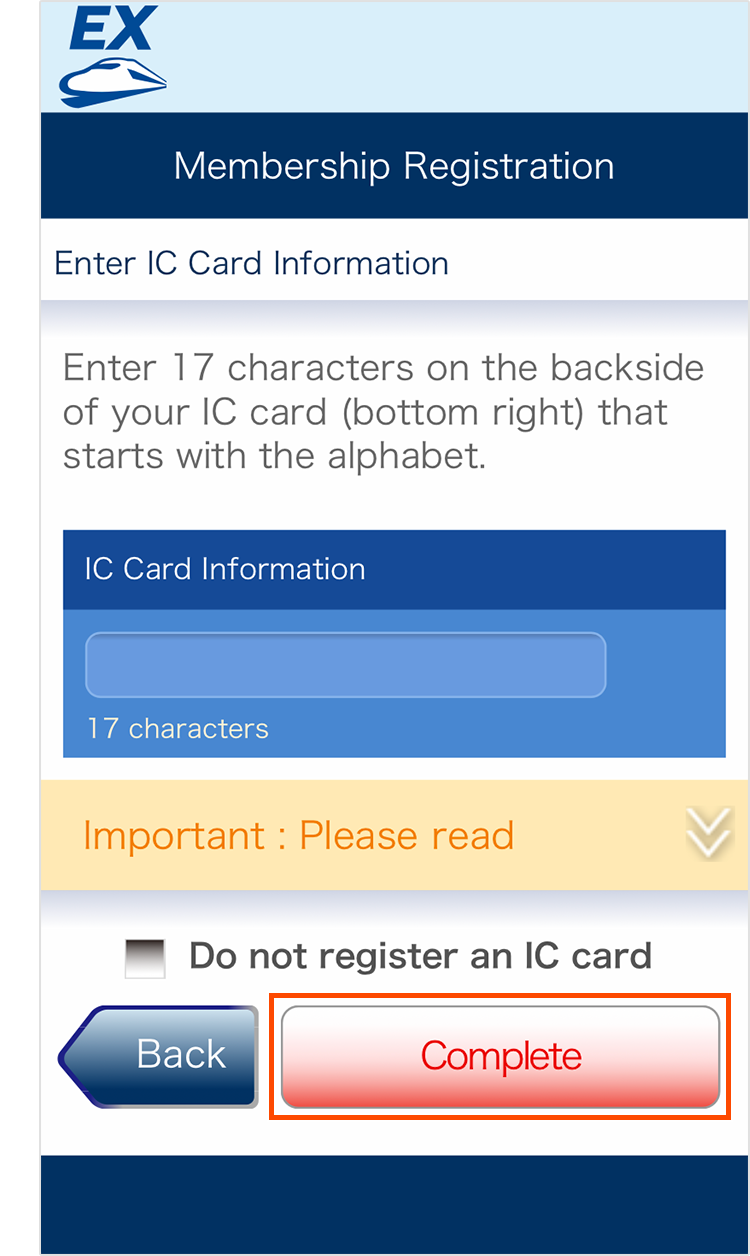 ⑧ Input IC card information (registration optional)
You can enjoy Ticketless travel by registering an IC card that can be used to travel on major railways and buses across Japan with this Service. There are ten kinds of public transport IC cards in Japan, and they can be purchased at stations etc. in areas where they are accepted. See

here

for details.
Select the type of IC card, enter your IC card number and tap "Next". If you do not want to register an IC card, leave this blank and tap "Next".
You can use your camera to read the IC card information.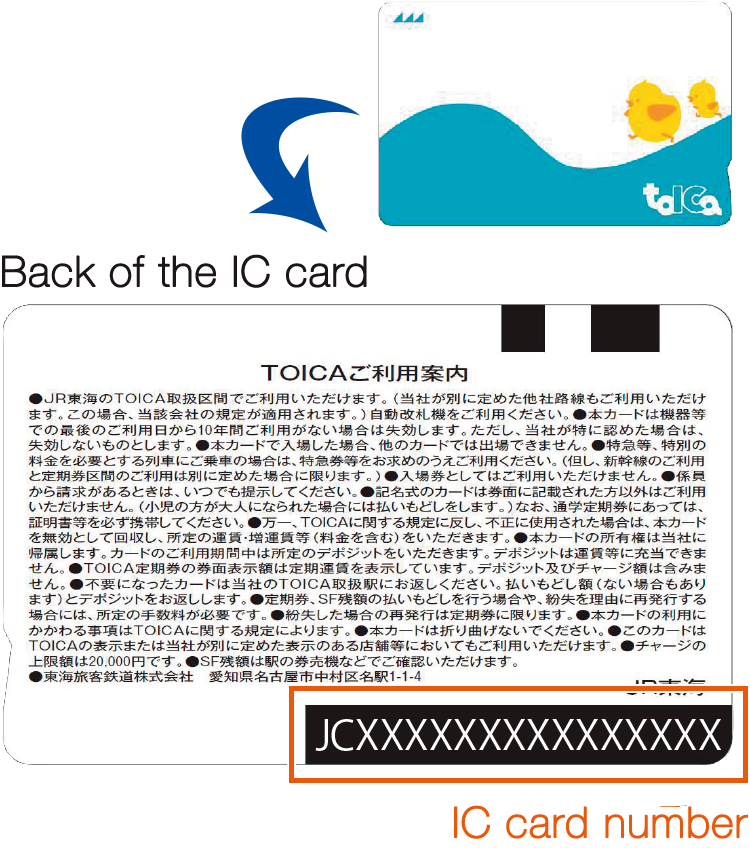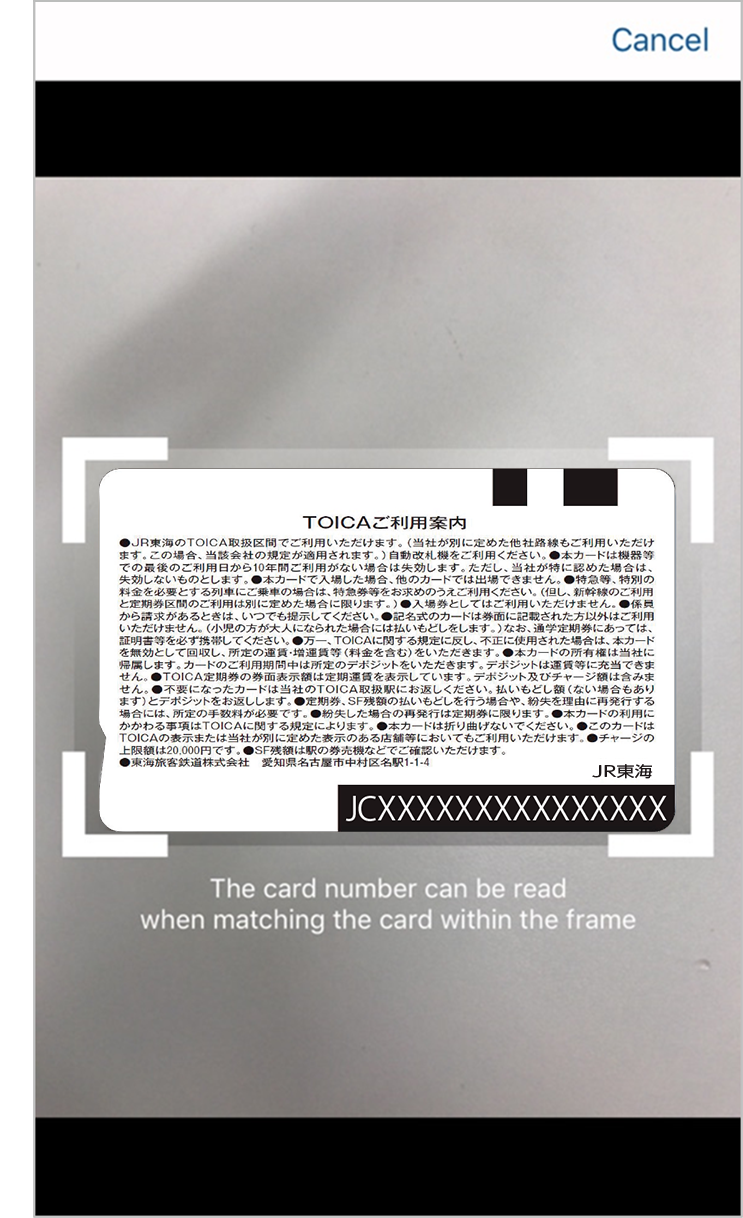 Please hold the IC card number located at back of the IC card in the frame.
Camera reader is available on iOS11 or later.
Registering an IC card number is optional. If you do not register one, then please pick up a ticket to travel.
Once an IC has been registered, it cannot be registered by another member.
Once you have registered your membership, you will be able to register your IC card from the "Membership Info." screen. If you are registering an IC card after you have registered for membership, you will need to carry out the process

from the same smart phone you used when registering for membership.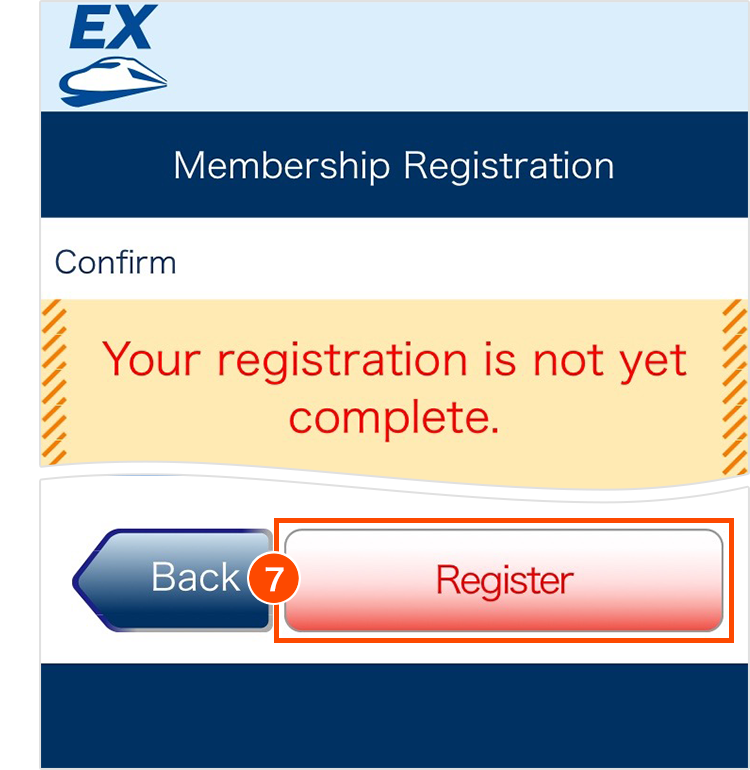 ⑨ Check the registration details and tap "Register."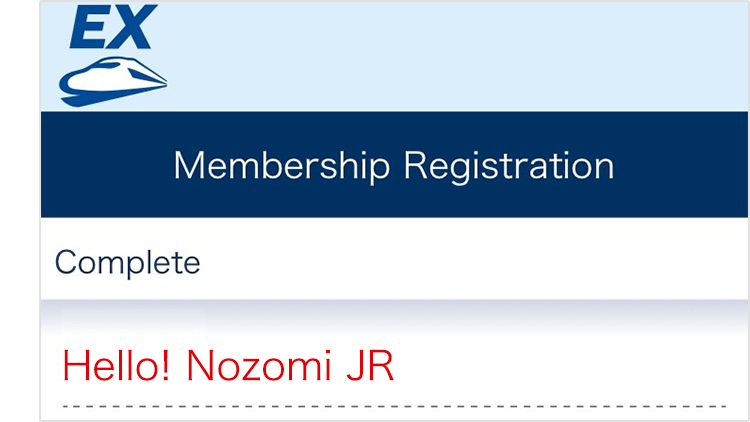 ⑩ A screen will appear with details of your membership ID and your membership registration will be complete. By tapping "Go to 'Login' Screen" and entering your password, you can immediately start to use the Service.You can save your membership ID on the login screen in the App.